Specifications for Track Spikes
Track spike, also named railroad spike or dog spike, is used to fasten T-shaped railroad track to wooden railroad ties. It has an L-shaped head and a square shank. The bottom of its head is sloped to match the slope of the flange of a rail. Its tip is wedge-shaped, not pointed. The wedge is driven into the tie across the grain, that is, parallel to the track.
Design of Track Spike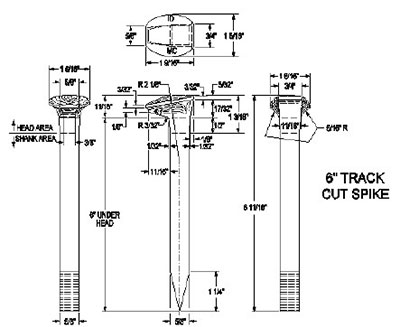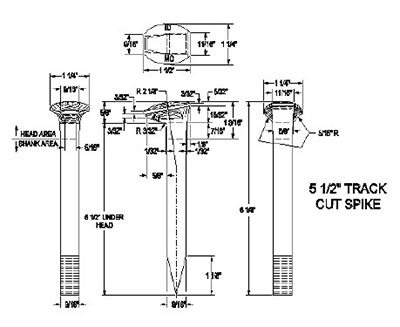 Bending Properties of Track Spike
The body of a full-size finished spike shall stand being bent cold through 120 degrees around a pin, the diameter of which is not greater than the thickness of the spike without cracking on the outside of the bent portion.
The head of a full-size finished spike shall stand being bent backward to an angle of 55 degrees with the line of the face of the spike, without cracking on the outside of the bent portion.
Permissible Variations in Dimensions
The finished spikes shall conform to the dimensions specified by the purchaser, subject to the permissible variations specified in the following table. Dimensions contained in the drawing but not contained in the table shall have a tolerance of +/- 1/32".
Type
Over
Under
Cross section (shank)
1₀32"
1₀64"
Head
3₀32"
1₀32"
Length (under head to point)
1₀8"
1₀8"
Angle (under side of head)
1°
1°
Shank Straightness (either
plane convex)
1₀32"
1₀32"
Inspection of Track Spike
The inspector representing the purchaser shall have free entry at all times while work on the contract of the purchaser is being performed, to all parts of the manufacturer's works which concern the manufacture of the material ordered. The manufacturer shall afford the inspector, without charge, all reasonable facilities to satisfy himself that the material is being furnished in accordance with these specifications. All tests and inspections shall be made at the place of manufacture, prior to shipment, unless otherwise specified, and shall be so conducted as not to interfere unnecessarily with the operation of the works.
Get in touch now
We receive enquiries in English, Español (Spanish), Русский язык (Russian), Français (French) and العربية (Arabic). Our professional team will reply to you within one business day. Please feel free to contact us!