Dog Spike for Sale | Railway Dog Spikes
Railroad spike is a kind of rail fastener which used to fix the rail or tie plate to the sleeper. Railroad spike usually includes dog spike and screw spike.
Dog spike, just like the name, it looks like a dog's head, is mainly used on T-shaped rail to fasten T-shaped rail track to wooden tie that have an L-shaped head and a square shank.

Dog Spike Features and Advantages
The bottom of the head is sloped to match the slope of the flange of a rail and the tip is wedge-shaped, not pointed.
The wedge is driven into the tie across the grain, which means the wedge is parallel to the track and will have about twice as much holding power as one driven with the grain.
The square cross section gives a railroad dog spike much higher holding strength than a fastener having the same amount of metal but a circular cross section has; roughly speaking, about 50% more.
Dog spikes are available in varying sizes to suit most applications.
Dog spikes provide a strong, simple and inexpensive solution to securing rail track.
Dog Spike Supplier
AGICO Rail can supply a range of popular dog spikes, at cheap prices, typical examples below: 3 1/2 x 3/8", 2 3/4 x 1/2", 3 1/2 x 1/2", 4 1/2 x 9/16" dog-eared patterns, spoonhead patterns, and sheared patterns.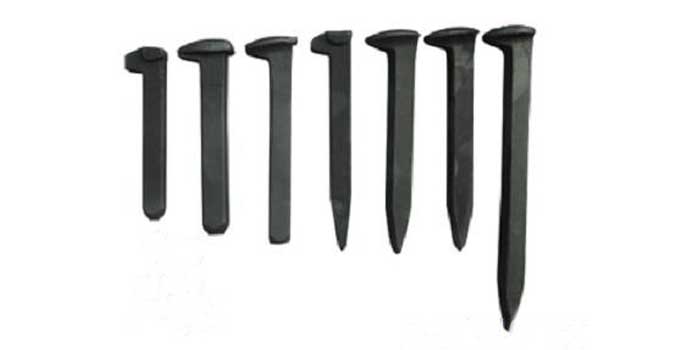 We stock a complete range of dog spike sizes and designs, manufactured to international standards like GB, AREMA or ASTM, BS, UIC, etc. we have the dog spike workshop and dog spikes of various sizes are available. The most popular track spikes are the 5/8" ×6" and 9/16" ×5-1/2" for smaller rail sections, especially in North America and US market, and they are usually packed in either 200lbs, 100lbs or 50lbs kegs. AGICO can also provide dog spikes at a competitive price.
Get in touch now
We receive enquiries in English, Español (Spanish), Русский язык (Russian), Français (French) and العربية (Arabic). Our professional team will reply to you within one business day. Please feel free to contact us!