Railroad Spike
AGICO is a professional rail fasteners supplier in China, of which rail spike is one of our important products. We can supply over 30 dies standard of rail spikes manufactured to international standard according to GB, DIN, ISO, ANSI/ASTM, B7, BS, JIS etc. Non-standard OEM is available if you provide a drawing or sample. AGICO has extensive experience in the rail industry and a high level of expertise in this specialized field AGICO can supply a range of popular rail spikes at economical prices, both dog spike and screw spike available.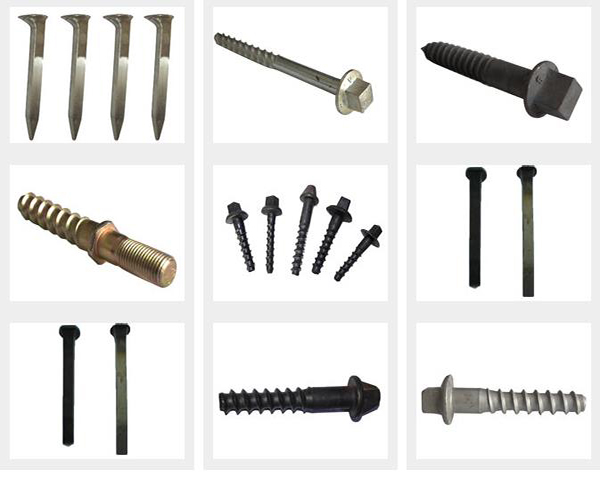 Dog Spike
The dog spike is used to fasten T-shaped rail road track to wooden ties, mainly used in North America. The common track spikes are the 5/8"*6" and the 9/16"*5-1/2" for smaller rail sections, and they are usually secured in either 200 lb. kegs or 50 lb. kegs. Rail dog spikes provide a strong, simple and inexpensive solution to securing rail track.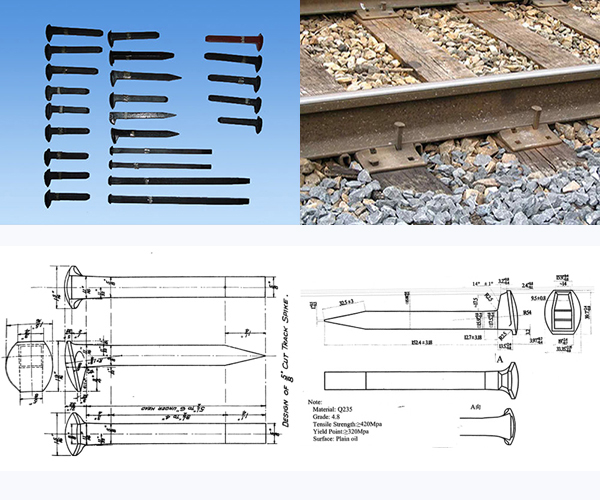 Specification
Material
Surface
Standard
5/8×6 ''



A3,Q235, 45#,55#, etc.



According to customer
Need.



According to customer's
drawings or samples
9/16×5-1/2 ''
3/8''×3-1/2 ''
1/2×3-1/2
Other kinds
Screw Spike
Railway screw spikes are usually used to fasten railway ties or sleepers and they also can be used in conjunction with plastic ferrules, casted into concrete ties /sleepers. Rail screw spikes can be various in thread profiles, lengths, diameters and drive heads based on specific geographic requirements.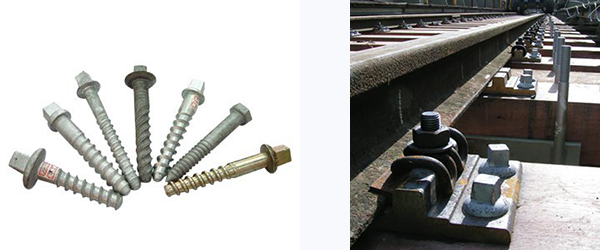 Ss series Sleeper Screw
Ss series sleeper screw is one of our hot sales, with different dimensions as shown below: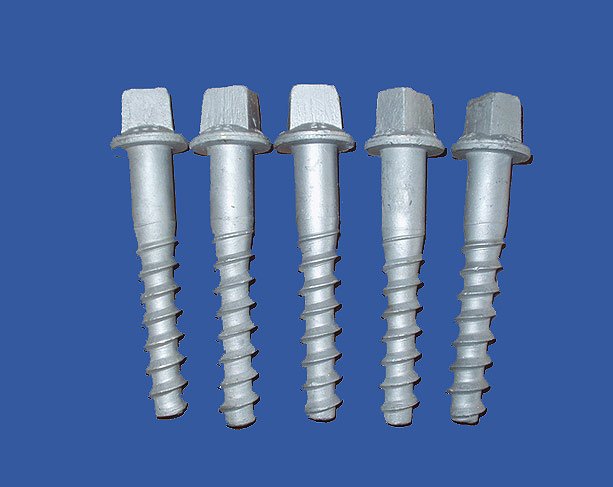 Type
Specification
Weight/kg
Surface
Standard

Ss 1/130
M22*130
0.451
Natural
UIC
Ss 1/150
M22*150
0.478
Zinc
AREMA
Ss 2/180
M22*180
0.595
Paint



GB or According to your drawings or samples
Ss 5/150
M24*150
0.545
Oil
Ss 6/150
M26*150
0.702



According to your needs.
Ss 7/180
M24*180
0.636
Ss 8/140
M24*140
0.528
Ss 8/150
M24*150
0.548


Square Head Screw Spike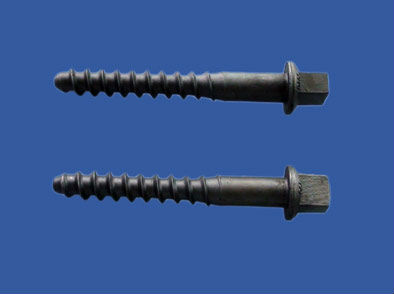 Type
Specification
Material
Surface
Standard




Square head screw spike
M22*145
45# or
Natural
UIC or
M22*155
55Q
Zinc
AREMA
M22*165
Q235
Paint
DIN
M22*185
According to your needs.
Oil
GB
M22*195
According to your needs.
According to your drawings or samples.
Other kinds
Hexagon Screw Spike
Hexagon screw spike includes several different sizes such as:M22*145, M22*155, M22*165, M22*185, M22*195 and so on.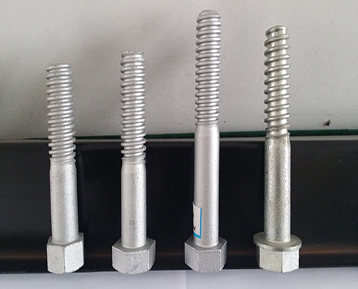 Grade
4.6
5 .6
8.8
10.9
Material
Q235
35#
45#
40Cr



Mechanical
Tensile strength:
≥ 400Mpa
Tensile strength:
≥ 500Mpa
Tensile strength:
≥ 800Mpa
Tensile strength:
≥1000Mpa
Yield strength:
≥ 240Mpa
Yield strength:
≥ 300Mpa
Yield strength:
≥ 640Mpa
Yield strength:
≥ 900Mpa
Elongation: ≥ 22%
Elongation: ≥ 20%
Elongation: ≥ 12%
Elongation: ≥ 9%
Cold bending: 90 degree
Without crack
Surface
Plain (oiled) , Oxide black, Zinc, HDG, Wax, Bitumen, Dacromet, Sherardizing
Double-head Screw Spike
The two-end-head screw spike is always used with Nabla clip fastening system, especially popularly used in Africa. To meet the strict bending requirement, special raw material is applied by straightening it without any crack after bending 30 degrees or even more.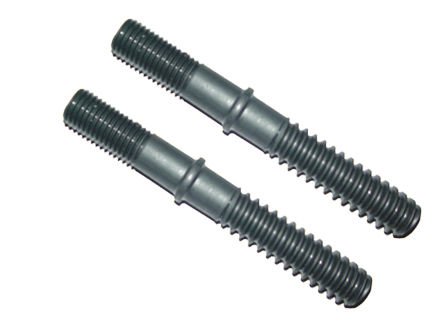 | | |
| --- | --- |
| Size | 23×174 |
| Grade | 4.6, 5.6, 8.8, 10.9 |
| Raw Material | Q235, 35#, 45# |
| Surface Treatment | Plain (oiled), Bluing, Zinc, HDG, etc. |
Rail spike
AGICO has been constantly update its products. Next are some of our new types of rail spikes.
| New product | Specification | Material | Unit Weight | Surface Treatment | Export Destination |
| --- | --- | --- | --- | --- | --- |
| Tire fond screw spike(1) | M24*160 | Q235 | 0.66kg/pc | Plain | Brazil |
| Tire fond screw spike(2) | M21*149 | Q235 | 0.61kg/pc | Plain | Brazil |
| Tire fond screw spike(3) | M22*180 | Q235 | 0.654kg/pc | Hot-dip galvanized | Brazil |
Railroad Spike Production Process
Raw material —— Wiredrawing —— Cutting the wire rod to length ——Forming the head —— Cutting Edge—— Heat treatment —— Surface treatment —— Final inspection —— Packaging —— Shipment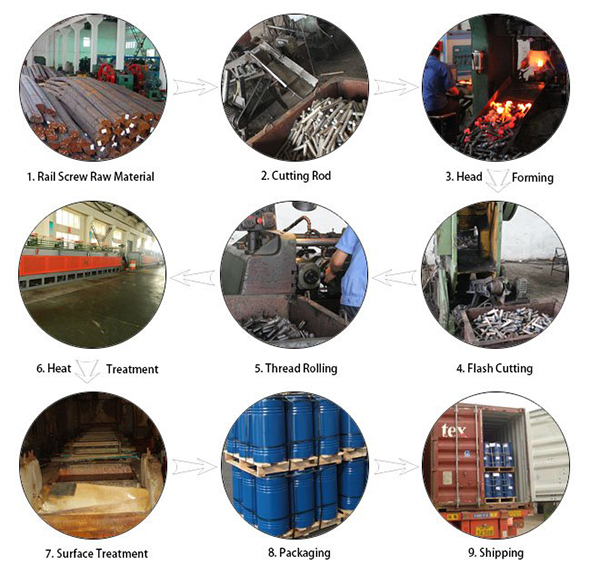 Pakaging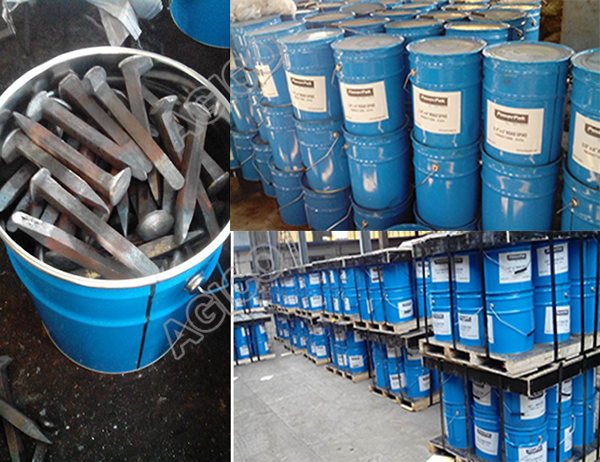 Get in touch now
We receive enquiries in English, Español (Spanish), Русский язык (Russian), Français (French) and العربية (Arabic). Our professional team will reply to you within one business day. Please feel free to contact us!