Other Rail Fasteners
1.Railway Turnout Frog
Railway turnout frog is usually used when the train moves from one track line to another line, which can guarantee the train changes line smoothly. A single turnout usually consists of a frog, a switch, two switch points, two guard rails, straight and curved closure rails, stock rails and switch stand. Frog is an important component of turnout. When using frogs, many problems are gradually emerged, such as rail abrasion, rail cracks. In order to solve them and lengthen life of frog, we use manganese steel as raw materials coupled with advanced technology of explosive depth hardened manganese steel (EDH). Our new product--AREMA 115RE & 132RE railway turnout frog are widely used in North American. Please don't hesitate to contact with us if you have any questions.
2.Rail Plastic Dowel
Rail plastic dowel can be used to fix the rail through pressed it into sleeper and assembled with sleeper screws, guide plates and rail clip. The plastic dowel we produce is with low abrasion and good sliding properties which can protect other spare parts well.
Type
For different sizes of screw spikes or anchor bolts
Material
Reinforced Nylon 66 (PA66: Nylon 66.69%, glass fiber 30%, other 1%)
HDPE
Density
1.3-1.45g/cm3
0.95-0.98g/cm3
Tensile strength
≥170Mpa
≥19Mpa
Elongation
≤4.4%
>80%
Melting point
250-270°C
170-190°C
Hardness
≥110HRR
≥98A
Insulation resistance
≥1×108Ω
≥1×1010Ω
Color
Yellow, black, white, blue, green, just to name a few.
We accept customization!
3.Rail Washer
Rail washer is usually used on screw or nut to distribute the load of threaded fastener. Other uses are as a spacer, spring (wave washer), wear pad, locking device to reduce vibration. AGICO produces several kinds of spring washer, flat washer and nonstandard washer or special standard washer according to drawings.
Flat Washer
Type: Uls6, Uls7
Lock washer
Type: WL20, WL24, Wl22
Raw material: 65Mn, 60Si2Mn, 70#
Surface: Black, Zinc, HDG…
Spring Washer
Type: Fe6
Raw material: 60Si2Mn
Spring steel bars Fe6
Hardness: 42-50
4.Rail Nuts
AGICO offers you all kinds of high-quality rail nuts according to the clients' requested standards and types including ISO, DIN, AS/NZS, GB, ANSI , BS and so on.
Type: Hex head, Square head, Flange head
Standard: DIN, BS, AREMA
Size: above M16
Raw material: Q235. 35# 45# 40Mn2, 20MnSi, 35CrMo, 40 Cr. 42CrMo
Grade: 4.5, 6, 8, 9, 10, 12
Surface: plain, black, zinc, HDG…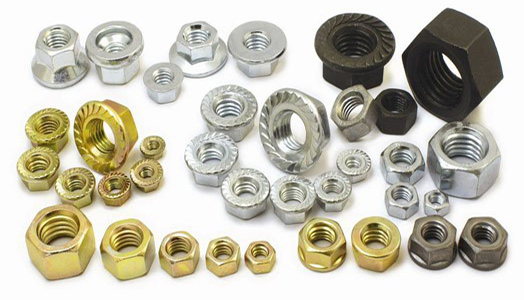 5. Rail Maintenance Clamp
Rail maintenance clamp is a temporary rescue tool which widely used in the railway works department to reinforce the welding point or injured parts. When we meet the emergency situation such as rail breaking, in order to make sure the train can pass through normally, we can install the corresponding model of rail joint on both sides of broken rail, and then put the rail maintenance clamp under the rail joint from the bottom of the rail. Two emergency device for a group and add to the rail joint at the same time. The rail maintenance clamps are respectively at the splint end 100mm. Then use the speed wrench lock the bolt of emergency rescue device. And now the train can go through safely at the lower speed. The rail maintenance clamp can be divided into four types include 43kg, 50kg, 60kg, 75kg, and each model respectively corresponding to the rail model used.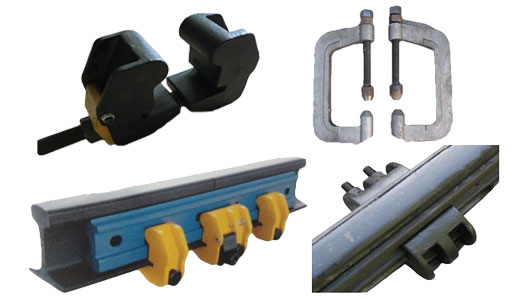 60kg Rail maintenance clamp
Material: cast steel, wrought iron, nodular iron
Unit weight: 3kg, 7kg, 10kg
Application: GB 60kg rail
Measuring tools: :universal rail gage, 1 m steel ruler, Rail Track Thermometer
Instruments: crowbar, spike hammer, adjustable wrench, single head wrench, drilling machine, Aluminium heat welding equipment, lighting equipment
Get in touch now
We receive enquiries in English, Español (Spanish), Русский язык (Russian), Français (French) and العربية (Arabic). Our professional team will reply to you within one business day. Please feel free to contact us!