Rail Joints
Rail Joint General Introduction
Rail joint is used to connect two rails together so as to ensure the safety and smoothly of train running. The rail joints are usually made of flat steel with four or six holes. As the most important part of rail joint system, on the one hand, when meeting the very high heat climate, rails will tend to expand or get longer, and the rail joint can provide rooms for expansion. On the other hand, rail joint is always installed near the road crossing, which gives great convenience for the repair crews to remove pieces of rail track with ease. AGICO has been committed to produce rail fastenings, rail joint systems and steel rail for at least 20 years. Whatever international standard or non-standard rail joint can be provided by us.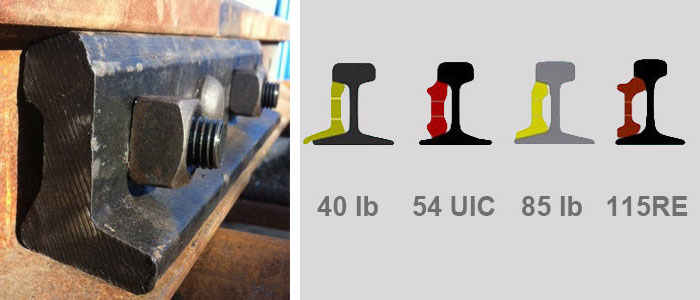 International Standard Rail Joints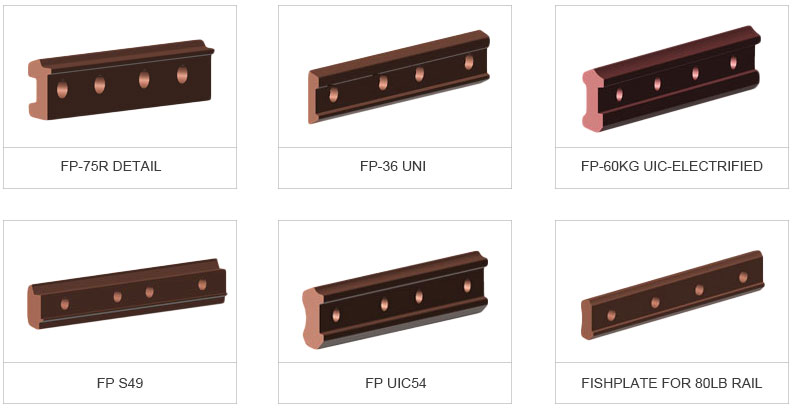 | Type | Size |
| --- | --- |
| GB standard | 43KG, 50KG, 60KG, 75KG |
| AREMA standard | 115RE, 119RE, 132/136RE, 141RE, 100-8, 122CB |
| BS standard | BS75R, BS80A, BS90A, BS100A, BS113A |
| UIC standard | UIC54, UIC60 |
| DIN standard | FI30, FI33, FI41, FI49 |
| AS standard | 31KG, 41/47KG, 50KG, 53KG, 60KG, 68KG, NIJ-721, NIJ-722, 60AS, 85AS |
| Brazilian standard | TJ57, TJ ASCE 90, TJ UIC60 |
| Peruvian standard | 75LBS A.S.C.E, 75 LBS BSS, 80 LBS A.S.C.E, TJ BS80A |
10 Reasons for Choosing AGICO Rail Joints
AGICO can provide one-step service for various rail joints including development, manufacture and export service.
With over 80% market share in China Railway field as rail joint We provide Semi-finished products without holes or finished products with holes.
Fish plate holes can be punched or drilled.
Either common or insulated type available.
Over 100 types of dies ready, including those used for Thermit Welded Joints.
Over 50 types of standard and nonstandard fishplate DIES available for global buyers.
It is also fixed long term supplierfor international companies such as A&K, ATT, Vossloh and

UT

.
It is appointed supplier of CREC, CRCC,

CCECC

for contracted railway infrastructure construction projects both in China and overseas in 23 countries.
Customized products are available according to drawings and technical requirements.
Appointed CRCC manufacturer for railway parts in China, qualified to bid for giant and medium rail projects.
Recommended Rail Joints
1

UIC54 Rail Joints
Item
UIC54 Rail Joint 6 Holes
UIC54 Rail Joint 4 Holes
Specification
920mm long, 6holes
630mm long, 4holes
Unit Weight
22.9kg/pc
15.6kg/pc
Standard
UIC
Material
55#
Packing
Bundled by steel strips with iron/wood pallets
Surface
Plain/Black Oil
Export Destination
Southeast Asia
Product Picture
2

UIC60 Rail Joints
Item
UIC60 Rail Joint 6 Holes
UIC60 Rail Joint 4 Holes
Specification
6 holes
4 holes
Unit Weight
17.5kg/pc
Standard
UIC
Material
55#
Packing
Bundled by steel strips with iron/wood pallets
Surface
Plain/Black Oil
Export Destination
Southeast Asia
Product Picture
3

115RE Rail Joints
Model
115RE Rail joint 6 Holes
115RE Rail joint 4 Holes
Specification
36" Long, 6 Holes, size 3-1/2" x 6" x 6", TO ACCOMMODATE A 1" BOLTS
24" Long, 4 Holes, TO ACCOMMODATE A 1" BOLTS
Unit Weight
25.5kg/pc
16.7kg/pc
Standard
AREMA
Material
50#/55#
Packing
Bundled by steel strips with iron/wood pallets
Surface
Plain/Black Oil
Export Destination
America, Canada
Product Picture
Capabilities Include
AREMA (American Railway Engineering & M/W Association) specifications including carbon steel or micro steel materials; Standard or Special Punching; All rail sections available from typical sections, or fabricated and machined from steel plate; Used for: Railroad – Transit – Industrial – Mining – Export; Short toe on all rail sections.
Adhering to quality first principle, AGICO pays great attention to quality control management on rail joint. We have been granted ISO9001-2000 certificates and have received the production license of China's Railway Ministry on railway products. We have a full set of inspection equipment to ensure all our rail joints are of high quality and up to customers' requirements.
Rail Joints Manufacturing Technique
All the rail joints are hot rolled from high quality steel, and accurately cut to lengths required and accurately punched to suit proper bolt holes. What's more, stamped identifications to provide ease of installation, proper application, and quality identification for traceability.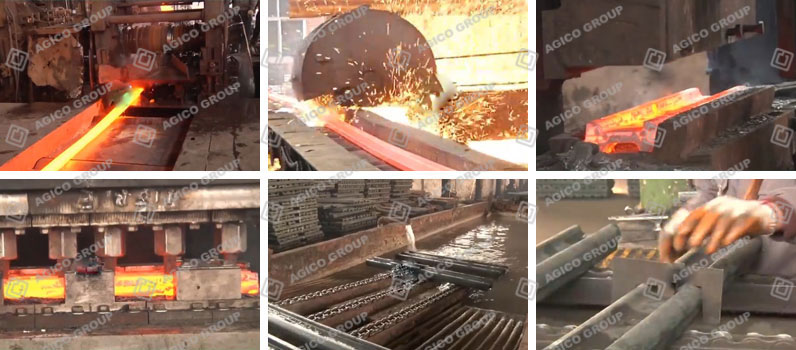 Get in touch now
We receive enquiries in English, Español (Spanish), Русский язык (Russian), Français (French) and العربية (Arabic). Our professional team will reply to you within one business day. Please feel free to contact us!