Whether Wooden Sleeper Is Still Suitable for the Railroad Construction Now?
With the rapid development of railway transportation, track upgrades are being carried out continuously all over the world. The railway sleeper market also has changed a lot and many ultra-modern composites emerged. As the traditional material being used, whether wooden sleeper is still suitable for the modern railroad construction now?
First of all, let's take a look at the advantages and disadvantages of different sleepers.
Wooden Sleeper
Wooden sleeper has been used for a long time and it nearly fulfills all the requirements of ideal sleepers. It is surprising that wooden sleepers still comprise the majority of the railway sleeper market, especially in the US, where wooden sleeper has a 93% share of the market – 16 million wooden ties are laid every year.
It's no accident that timber's market ascendancy has never waned. The natural properties of wood (usually hardwood such as oak, but cheaper softwood has been used on lighter, less busy lines) are suited to providing a resilient track with excellent dynamic attenuation of impact loading as well as noise and vibration reduction.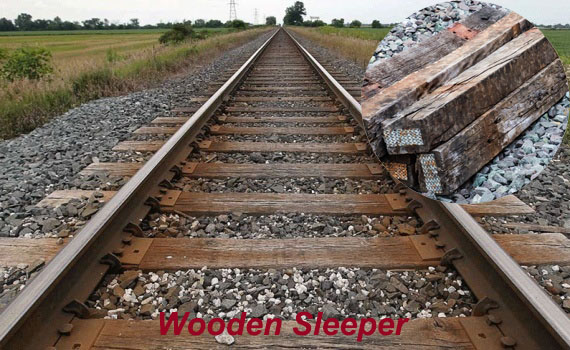 Advantages of Wooden Sleepers
With high elasticity, wooden sleepers are much useful for heavy load and high speed
They are comparatively cheaper than any other types of sleepers.
Light and easy to transport and install.
Wooden sleepers are good insulators and good for track circuited rail tracks.
Can adapt to any gauge.
Suitable for salty regions and coastal areas.
Convenient for processing and placing.
They are not badly damaged in case of derailment.
Disadvantages of Wooden Sleepers
Wood is far more susceptible to wear and tear.
Easy to be attacked by vermin.
Liable to catch fire.
Do not resist creep.
Life is shorter than other types of sleepers.
A large quantity of timber used is not conducive to environmental protection.
Concrete Sleeper
Concrete sleepers are generally made from slabs reinforced internally by steel wire. Modern concrete sleepers are primarily manufactured using pre-stressed concrete – a technique where internal tension is introduced to the sleeper. Concrete sleepers are now widely used and replacing other types of sleepers except to some special circumstances.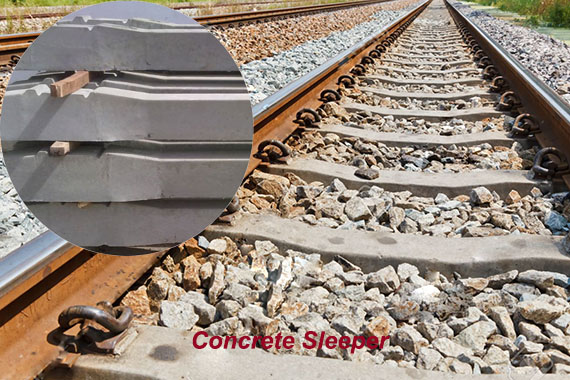 Advantages of Concrete Sleepers
Durable with life at least 40 years.
Can give better lateral stability to the track due to heavier than other material sleepers.
Good insulators and thus suitable for use in track circuited lines.
Efficient in resisting corrosion and attacks of vermin.
Suitable for all types of soils.
More efficient in preventing buckling.
Nonflammable and fire resistant.
Can be produced on large quantities locally by installing a plant.
Disadvantages of Concrete Sleepers
Difficult to be transported.
With low elasticity, thus can be damaged easily while loading and unloading.
Difficult to be manufactured in different sizes thus cannot be used in bridges and crossing.
Compared with wooden sleepers, concrete sleepers must be installed using heavy machinery.
Much expensive than wooden sleeper as pre-stressed concrete requires a skilled workforce and specialist equipment to manufacture, this high-quality material is certainly not a cheap option.
Steel Sleeper
Steel sleepers are often seen as a middle ground between wood and concrete. Sturdier than timber and less expensive than pre-stressed concrete, it seemed logical that steel could prove a boon to companies looking to undertake an economical track upgrade.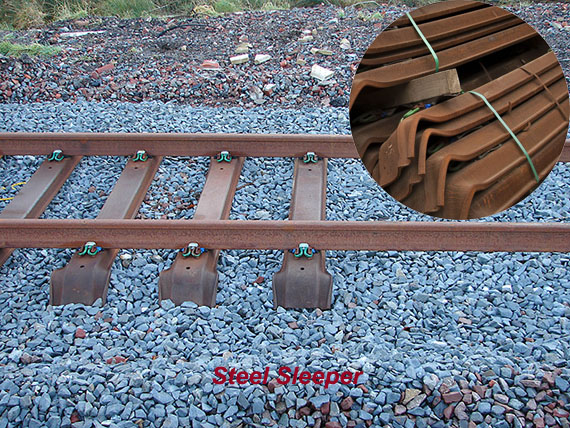 Advantages of Steel Sleepers
The service life is about 20-25 years.
Free from decay and are not attacked by vermin.
Connection between rail and sleeper is simple and stronger.
Having better lateral rigidity.
Good scrap value.
Suitable for high speeds and load.
Easy to handle.
Good resistance against creep.
Disadvantages of Steel Sleepers
Easy to rust while exposed in the air.
No insulation and cannot be used in track circuited regions.
Cannot be used for all sections of rails and gauges.
Should not be laid with any other types of ballast except store
Will be badly damaged under derailments.
The rail seat is weaker.
With the growing quality requirement for railway sleepers, people pay more attention to research new materials replacing wooden sleepers. On the one hand, the service life of wooden sleepers is relatively short. On the other hand, a large quantity of timber used is not conducive to environmental protection. However, concrete sleepers and steel sleepers are just making up these shortcomings of wooden sleepers and they are gradually replacing wooden sleepers.
Don't wooden sleepers are not suitable for the modern railway construction? No! Wooden sleepers still comprise the majority of the railway sleeper market especially in the bridge construction. Otherwise, the recycling utilization rate of wooden sleeper is very high now. They can not only be used to in the garden for beach building, but also can be used to interior decoration. In a word, wooden sleeper still plays an irreplaceable role in railway construction.


Get in touch now
We receive enquiries in English, Español (Spanish), Русский язык (Russian), Français (French) and العربية (Arabic). Our professional team will reply to you within one business day. Please feel free to contact us!