To Be Acquainted with Australian Railway and Rail Fastening Systems
Australia is about 7.682 million km2 of the land area with a population of about 17.336 million, which is an economically developed country including six states (regions). The railway has been independently operated by each state. Australia has the total 43 thousand km long railway, of which 1600mm wide gauge of railway is 7,449 km, 1435mm gauge of railway is 16,475km and 1067mm gauge of railway is 19,076km. Independent management system of railway is mainly: Australia State Railway (AN) headquartered in Adelaide owning 7,450km long railway.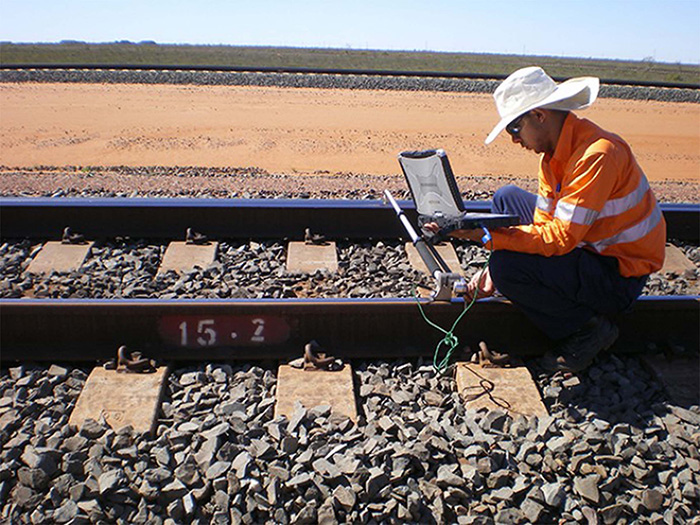 Australian Railway Status
The Australian railway system takes up high status in the national economy. The freight turnover is 150 billion ton/km. The more than 70% of the cargo is transported by the railway between Australia east and west coasts, and the more than 20% of the cargo is done by the railway between Australia north and south coasts. The railway transportation has accounted for more than 35% of the total domestic cargo transportation business. The transportation is mainly consisted of bulk and container cargo such as coal, ore, etc.
In Australia the 80% of iron ore, 70% of coal and 20% of grain is transported and exported by railway. In the world, the heavy haul railway transportation in Australia is relatively advanced than the other countries. There are four heavy haul railways in the transportation system in northwest Australia, mainly exported iron ore from the regions of Pilbara and Perth. They are single line of heavy haul of the railway transportation systems with the annual volume of more than 0.13billion tons by electric locomotive tractions. And in the northeast region of Queensland heavy haul railways belongs to narrow gauge (1067mm) with the annual 0.12 billion tons of coal transportation. The heavy haul trains are driven by electric locomotive traction, all belonging to ten thousand ton grade of trains.
In the northwest region in heavy haul railway network run by the BHP Billiton Iron Ore Company, lead by multi locomotives, the common train consisting of 226 vehicle cars is 2200m in length running on 636km standard gauge line. And in June 2001 the longest and heaviest heavy haul train in the world was put into operation. The train is 7400m long with a total of 682 vehicle cars pulled by eight locomotives. The train is with the total weight of 100 thousand tons, which can load about 82.3 thousand tons. The Australian railway trains driven by electric locomotives are mostly used to transport coal, ore and other bulk grains. The cargo is basically using special transport vehicles, for example, coal transportation adopts fixed marshalling of stainless steel coal hopper car; grain transportation adopts a big volume of grain hopper car or multi-function container grain hopper car; ore transportation adopts a large axle load of gondola ore car; the other daily merchandise and light goods uses container for transportation.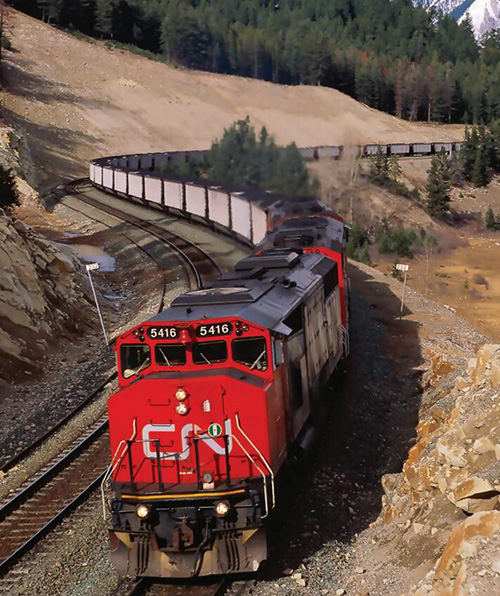 Australian Rail Fastening Systems
In Australia
rail fastening systems
are mainly from Pandrol Company. Pandrol's technology is one of the great dedicated iron ore railways of the world at Hamersley Iron, which operates iron ore trains of up to 35,000 tons between Paraburdoo and Dampier in northwest region of Australia, and transports 90 million gross tons per year, and which first operated on timber sleepers with Pandrol clips in 1978. The performance of the Pandrol clips was such that when the original timber sleepers were replaced with concrete sleepers in 1986, the original fastenings were recycled and reused on the new concrete sleepers. All track extensions have been with Pandrol clips and there have been no maintenance or operational problems to date.
Rail fastening systems mainly used in Australia include FASTCLIP fastening system, E2000 fastening system, FIST fastening system, etc.
FASTCLIP Fastening System
FASTCLIP fastening system is mainly used on the railways of Hunter Valley Coal lines (more than 1,000km) governed by ARTC and Central Queensland Coal Network governed by Aurizon (Formerly QR National)( (more than 2,600km). It has been used for 5 years.
According to the information from Pandrol website, FASTCLIP fastening system has substantial global references and has been designed as a total system in which all components are delivered to site pre-assembled on the sleeper. Once the sleepers are laid, and the rail installed, the clip is simply pushed onto the rail by means of a simple drive action. This switch on-switch off capability leads to the opportunity for mechanising the installation and extraction processes that relate to installation and maintenance of the tracks.
E2000 Fastening System
E2000 fastening system is mainly used on the railways of Hunter Valley Coal lines (more than 1,000km) governed by ARTC, Pibara Mainline Network (Iron Ore) governed by BHP Iron Ore (more than 1,600km) and Fortescue Metals Group (more than 650km) and Pilbara Iron Network (Iron Ore- includes Hamersley Iron & Robe River Mining) governed by Rio Tinto(more than 1,600km). It has been used for 20 years.
E2000 fastening system is consisted of the below good features:
Fewer and simple components
Elastic fastening that can continue to grip the rail under vibration
Long lifespan
High safety
Proven on all types of sleeper or ballastless track
Used in turnouts and crossings widely
Supplied in self-locking anti-vandal form to prevent unauthorized removal, requiring a special tool to remove the clip
Wide range of applications for existing designs
Maintenance-free
No threads to strip or corrode
Straightforward use in operations
FIST Fastening System
FIST fastening system is mainly used on the railways of Central Queensland Coal Network governed by Aurizon (Formerly QR National) (more than 2,600km). It has been used for 20 years.
FIST fastening system originated in Sweden and is used extensively in the Southern African surface railroads with major installations in South Africa, Zimbabwe, Botswana, Swaziland and Namibia. The system has also been used in Australia. It is consisted of fist clip, insulated pin and base pad.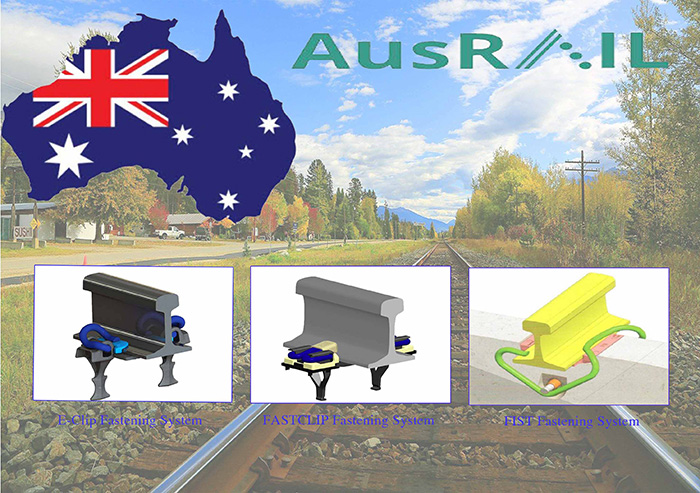 Keeping in mind the precise requirements of the clients, our AGICO can manufacture and supply high quality of approved range of rail fastening systems according to International standards like ASTM,DIN,JIS,ISO etc.
Get in touch now
We receive enquiries in English, Español (Spanish), Русский язык (Russian), Français (French) and العربية (Arabic). Our professional team will reply to you within one business day. Please feel free to contact us!