The World's Longest Railway Tunnel Opened in June
Railway tunnel is built in the ground or under water and laid for railway locomotive vehicle traffic. The world's longest railway tunnel was built in Switzerland, which caused great attention from all over the world. Then the demand of railway accessories such as rail joints, railroad spike, rail clips must be particular big.
According to report of Xinhua News Agency, for 17 years construction, the world's longest railway tunnel is scheduled for official opening on June 1 in Switzerland, which will been put into commercial operation by the end of the year. Then the journey between Zurich and Milan, Italy will be shortened about 1 hour.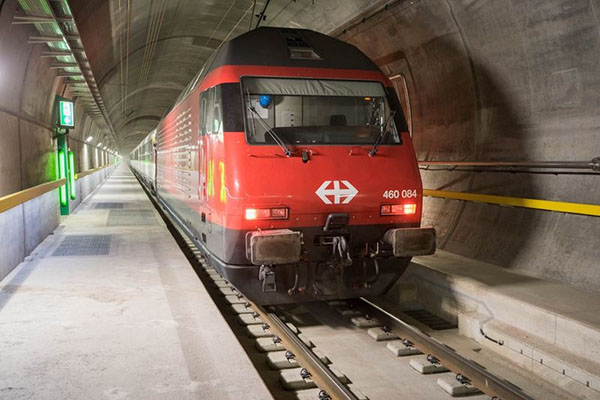 The Longest and Deepest Railway Tunnel
Gotthard Base Tunnel is located in the middle of the Swiss Alps, which consists of two tunnels, the eastern and western. The length of one tunnel is about 57 km, 3km longer than the Japanese connection with Hokkaido and Honshu Chongjin strait of undersea rail tunnel, so as to become the world's longest railway tunnel.
The east and the west tunnel and other auxiliary shaft and connection channel, a complete set of tunnel system total length reaches 151.8 km. Architects say, it is the world's deepest from ground railway tunnel, the depths is about 2300 meters.

Gotthard Base Tunnel was completed, and the second original length of the Channel Tunnel turns into the third, which is 50.5 kilometers long.
However, this order may change again ten years later, because Austria is expected to build a railway tunnel, about 55 kilometers long.
From Dream to Reality after Nearly 70 Years
Swiss engineer Karl Edward Lattice Lv Na put forward construction of railway tunnel vision across the Alps in 1947. He had expected that the tunnel would be built in the early 21st century.
In 1963, the Swiss government set up a committee to study tunnel construction plans, but there were different kinds of solutions. In the end, the Swiss government thought that it is not a priority to build the railway tunnel in 1983, and plans were shelved.
There was a referendum in 1992 in Switzerland, as a result, most people supported to build a tunnel. However, the building plan was put off again due to cost.
In November 1998, there was a referendum once again and finally the project was started.
In order to save time, the project was divided into five period of construction at the same time, the peak more than 2000 workers working at the same time. The eastern and western tunnel respectively connected in October 2010 and March 2011.
The whole project cost about 12 billion Swiss francs (about 79.2 billion yuan).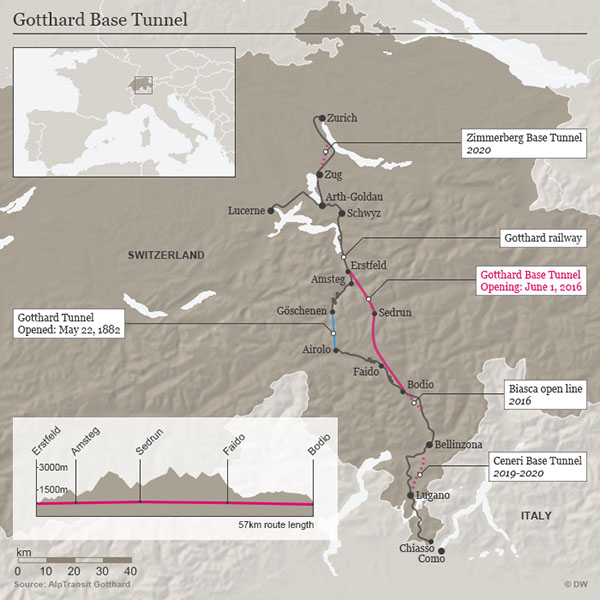 Important Node of European Railway
After the completion of the Gotthard Base Tunnel between Zurich and Milan, Italy, train running time will be 2 hours and 40 minutes, shorter than it is now for about 1 hour.
Swiss railway department expected that passengers will be increased from 9000 a day now to 2020, 15000 visitors a day after opening to traffic. At last, the line will run 260 freight trains and 65 passenger trains every day, to run at 200 kilometers per hour, and the highest could reach 250 kilometers per hour.
What's more, it will also become an important node of railway transportation between northern and southern Europe. Violetta Boolean, the commissioner who is responsible for traffic at European Commission said that Gotthard Base Tunnel is "God gives a gift to Europe", which is contribute to promoting the development of European economy.
Angela Merkel, Germany's chancellor, Francois Hollande, French president and Matteo Renzi, Italy's Prime Minister will be president at the tunnel opening ceremony together with the Swiss government officials. Then the train pass test will be hold in the following months. The Gotthard Base Tunnel is predicted to put into commercial operation in December this year.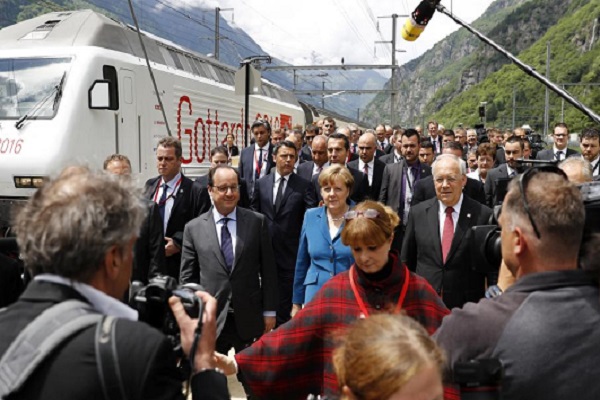 Get in touch now
We receive enquiries in English, Español (Spanish), Русский язык (Russian), Français (French) and العربية (Arabic). Our professional team will reply to you within one business day. Please feel free to contact us!