The Complete Beginner's Guide to Indian Rail Sleeper
Rail sleeper is the transverse tie that is laid to bear the rails, which has an important role in transmitting the wheel load from the rails to the ballast. Several types of sleepers are used on Indian Railway.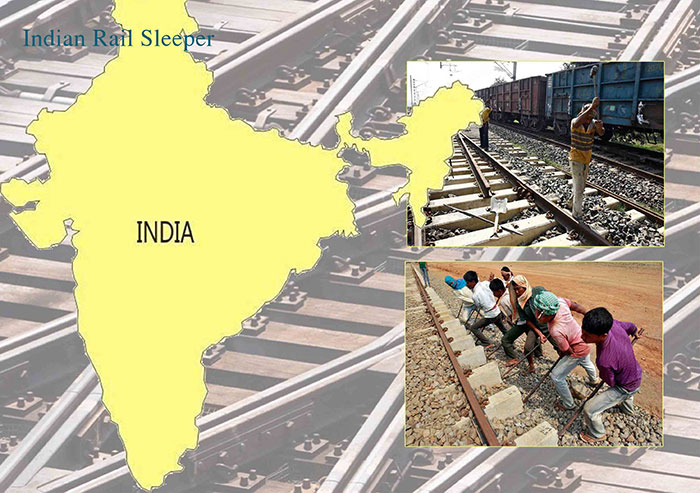 Indian Sleeper Density and Spacing of Sleepers
Rail sleeper density refers to the number of sleepers per rail length. The spacing of sleepers is fixed depending on the sleeper density. Spacing is not always kept uniform for the whole rail, which is much closer by the sides of the joints due to the weakness of the joints and impact of moving loads on them.
Table 1: Standard spacing specifications for the fish plate track in India
Spacing of sleepers
Broad gauge
centre-to-centre
spacing (mm)
Meter gauge
centre-to-centre
spacing (mm)
Wooden
Metal
Wooden
Metal
Between joint sleepers (a)
300
380
250
330
Between joint sleepers and the first shoulder sleeper (b)
610
610
580
580
Between first shoulder sleeper and second shoulder sleeper (c) for sleeper density M + 4
700
(640)
720
(620)
700
(620)
710
(600)
Between intermediate sleepers (d) for sleeper density M + 4
840
(680)
830
(680)
820
(720)
810
(640)
Indian Sleeper Types
Rail sleeper mainly used on Indian Railway includes: wooden sleeper, cast iron (CI) sleeper, steel sleeper and concrete sleeper.
1. Wooden sleeper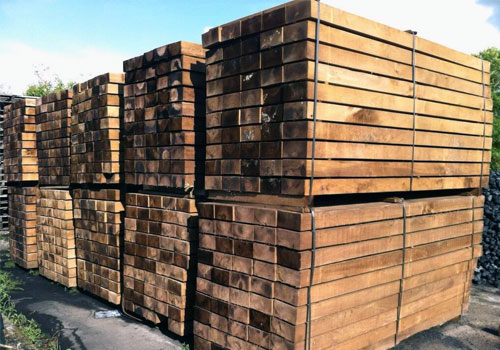 Wooden sleeper is the most common type of sleeper in India. The wooden sleeper has lots of good features.
The service life of wooden sleeper in India is just about 15 years normally, which is much longer service life. The weather conditions, for example, rain, humidity, are the reason of the shorter life-span of the sleepers in India.
Wooden sleeper can be classified into two categories: durable sleeper and non-durable sleeper. Durable sleeper doesn't need any treatment and can be laid straightly on the track. In India it is from the timber such as teak timber, sal timber, nahor timber, rosewood, anjan timber, kongu timber, crumbogam kong timber, vengai timber, padauk timber, lakooch timber, wonta timber, milla timber, and crul timber. Non-durable sleeper needs treatment before the use on the track. Non-durable sleeper is made of wood such as chir, timber deodar timber, kail timber, gunjan timber, and jamun timber.
Wooden sleeper can be classified into hard wood sleeper and soft wood sleeper in the west and China depending on the wood specie. Generally speaking, the trees with broad leaves are known as hard wood trees and the trees with long leaves are considered soft wood.
2. Steel channel sleeper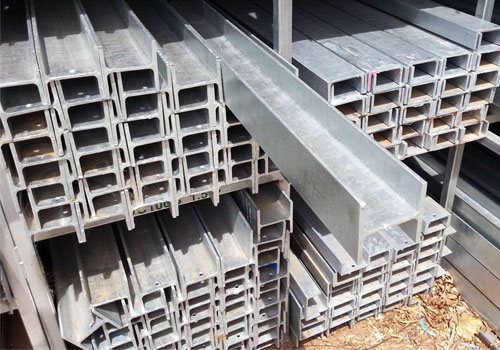 In view of the shortcomings of wooden sleeper, steel channel sleeper has been designed and developed by Indian Railway, which is specially used on the girder bridge. Composite sleeper has been developed in India to be as a replacement for wooden sleeper. It is made from waste products with a lifespan of 40 years. Composite sleeper is similar to wooden sleeper using the similar accessories.
3. Steel trough sleeper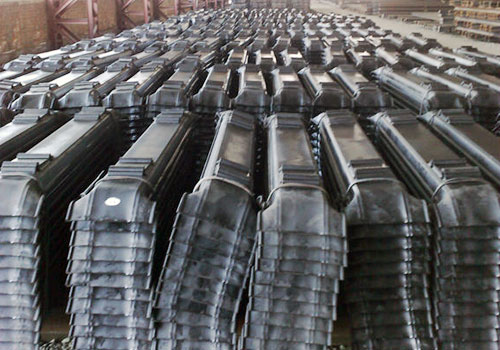 About 27% of the Indian Railway is used on steel sleeper. The increasing shortage of wood is mainly responsible for the use of steel sleeper in India.
Steel trough sleeper consists of a rolled steel plate with about 2mm thickness pressed into a fit trough shape and the rail seat. The ends of the rolled section are flattened out in the shape of a spade to retain the ballast.
4. Cast iron sleeper (CI sleeper)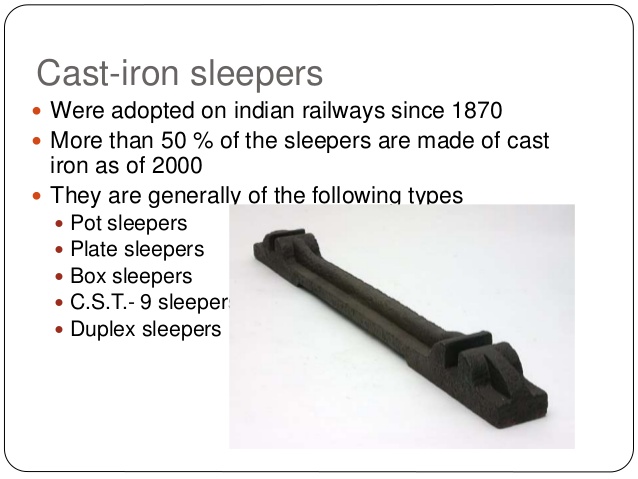 Cast iron sleeper is extensively used and about 45% of the Indian Railway is consisted of CI sleepers now.
Cast iron pot sleeper includes two circular or elliptical shape of hollow pots placed inverted on the ballast. With the help of cotters and gibs, two pots are connected by a tie bar. The gauge can be adjusted slightly by changing them. The rail is put on top of the pots in a rail seat. It is kept in position with the help of a key. Most of the fittings are hidden, so their maintenance is very difficult.
5. CST-9 sleeper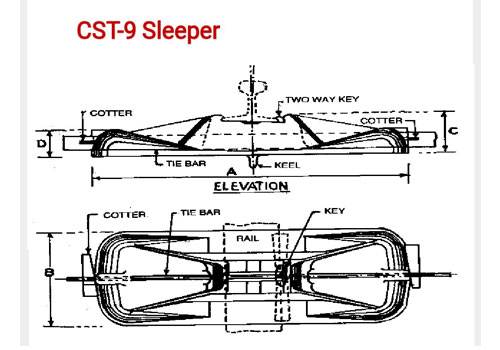 CST-9 sleeper is a standard sleeper most extensively used on Indian Railway. It is named CST-9 (Central Standard Trial-9) because it is the ninth product of the series designed by the Central Standard Office. The CST-9 sleeper is one of the most common sleepers on Indian Railway nowadays. A new design of the CST-9 sleeper has recently been developed by Indian Railway for 90 R rails on MG lines.
6. CST-10 sleeper
CST-10 sleeper is made an improvement on the design of CST-9 sleeper to fit the needs of the modern track. The basic design feature of the sleeper is the equal to that of CST-9 sleeper. A CST-10 sleeper can give certain elasticity to the track with the help of double-coil spring washer. But the sleeper has the shortcoming that it cannot be used with elastic fastening system.
7. CST-11 sleeper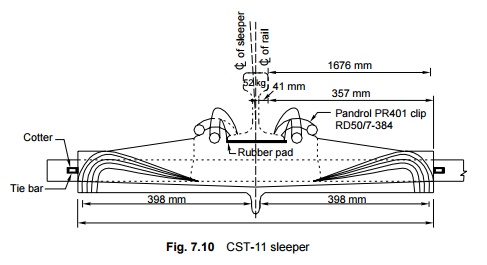 CST-11 sleeper is made an improvement on CST-10 sleeper. A special shoulder is designed and manufactured to fit Pandrol clip as the replacement of clips and double-coil spring washers. An elastic rubber pad is added between the sleeper and the rail seat, so the rail doesn't need to be put directly on the sleeper. CST-11 sleeper can be used on the modern track.
8. CST-12 sleeper
CST-12 sleeper is designed to fit the IRN-202 clip to replace Pandrol clip. So the production is very complicated because of the clip shape.
9. CST-13 sleeper
CST-13 sleeper is to use CST-9 sleeper with certain alternations. It is consisted of CST-9 plate with rubber pad and a rubber head filled the gap occupied by the key. The rail is fastened to the sleeper by a sigma clip that is similar to fist fastening system.
Concrete Sleeper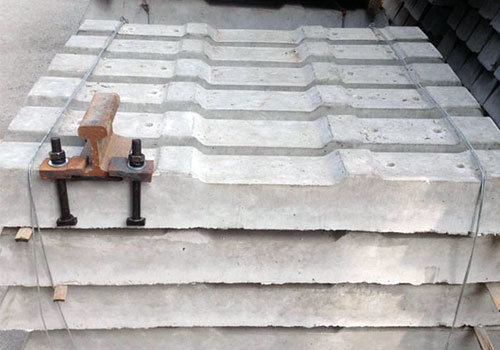 In the early times of Indian Railway, wood was the only material of making the sleeper in world. With the development of concrete technology in the nineteenth century, cement concrete had established its place as a versatile building material and could be adopted suitably to meet the requirements of a railway sleeper. Concrete sleepers have been designed by the Research Design and Standard Organization (RDSO) wing of Indian Railway.
1. BG sleeper
Concrete sleeper includes various types: pre-stressed concrete sleeper, pre-tension concrete sleeper, post-tension concrete sleeper and two-block concrete sleeper. Different types of concrete sleepers are manufactured by Indian Railway.
Table 2 Different types of concrete sleepers
| Gauge | Sleeper type | Rail section | Standard drawing number | Sleeper design number |
| --- | --- | --- | --- | --- |
| BG | Mono block | 60kg | RDSO/T-2496 | PDS-14 |
| BG | Mono block | 52kg | RDSO/T-2495 | PDS-12 |
| BG | Mono block | 60kg/52kg | RDSO/T-3602 | Post-tension type |
| BG | Mono block | 90R/75R | RDSO/T-2521 | RCS-6 |
| BG | Mono block | 90R | RDSO/T-2503 | PCS-17 |
| MG | Twin block | 75R/60R | RDSO/T-3518 | PCS-12 |
| BG | Twin block | 75R | RDSO/T-153 | PCS-11 |
2. Mono-block pre-stressed concrete sleepers with Pandrol clip
Mono-block pre-stressed concrete sleeper has an overall length of 2750mm and a weight of about 270kg, which has a trapezoidal cross section with a width of 154mm at the top and 250mm at the bottom and a height of 210mm at the rail seat. The sleeper is pre-stressed with 18 high tensile steel (HTS) strands of 3×3mm diameter and 126mm diameter mild steel links. The initial pre-stressing of the steel is 100 kg/cm2. The 28-day crushing strength of the concrete is not less than 525kg.The rail is placed on a grooved 130×130mm rubber pad. The fastening system is Pandrol clip for 52kg rail, which are held in the cast iron inserts.
A. PCS-12 and PCS-14 concrete sleepers
PCS-12 concrete sleeper is the type of pre-stressed concrete sleeper for use on BG lines with 52kg rail and elastic rail clip. PCS-14 concrete sleeper is the type for use with 60kg rail and elastic rail clip, which has been standardized on Indian Railway.
3. Mono-block post-tension type of concrete sleepers for BG
In India the first factory for the manufacture of mono-block post-tension type of concrete sleeper was founded at Allahabad in collaboration with M/s Dyckerhoff and Widmann (D&W) of Germany.
The Size of the sleeper is 2750 mm in length, 160 mm (top) & 200mm (bottom) in width at centre, 180mm in depth at centre and 295kg in weight. Its design features are 37t initial pre-stressing force, 31t final pre-stressing force, 550 kg/cm2 minimum concrete strength in 28 days, 450 kg/cm2 minimum strength of concrete at the time of applying pre-stress.
4. Mono-block PRC sleepers for MG (PCS-17)
The design for mono-block PRC sleepers (PCS-17) has recently been standardized for MG, which has a trapezoidal cross section that is similar to that of BG sleeper. The concrete should have a 28-day compressive strength of 525 kg/cm2 with 2000mm in length and 158.5 kg in weight. Twelve 3×3mm strand of HTS wire tensioned to initial force of 2730kg PRC sleepers can be used for 90R rail with elastic rail clip and glass filled nylon liner (GFN 66) and on sole plates.
5. Two-block RCC sleeper for BG
The design for two-block RCC sleeper for BG has been standardized by RDSO on Indian Railway.
6. Two-block concrete sleeper for MG
Recently two-block concrete sleeper for use in MG has been developed. The sleeper is consisted of two cement concrete blocks. Each weighs about 36kg including a 7kg MS reinforcement. The sleeper blocks are connected by an angle tie bar of 55×50×6mm section and 1.5m in length. The rail is installed to the sleeper block by a clip and bolt arrangement or polythene dowel and rail screw. A pad is placed below the rail seat to provide cushioning.
Indian Railway has been modernizing its track fast to meet the needs of busy traffic transportation. For China enterprises, India is a prosperous and big market of railway products.
Get in touch now
We receive enquiries in English, Español (Spanish), Русский язык (Russian), Français (French) and العربية (Arabic). Our professional team will reply to you within one business day. Please feel free to contact us!