Rail Clip Definition | Rail Clip Types | Rail Clip Supplier
Rail Clip Definition
Rail elastic clip is used to fasten the rails to the base plate together with the concrete sleeper. Rail clip is usually made of spring steel which is produced by hot forging process. Because of the uniform microstructure of forged clips, it is considered to be better than other metal forming process.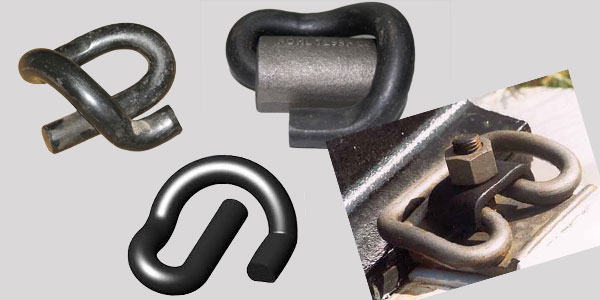 Rail Clip Supplier-AGICO Rail
Elastic rail clip is very important components that is heavily used in laying of railway tracks. AGICO manufactures these rail clips using finest quality raw material ensuring enhanced sturdiness and long durability. Moreover, our rail clips are made of forged spring steel which is thought the best raw material. Therefore, elastic rail clips we manufactured saved a large amount of maintenance cost.
As a professional manufacturer and supplier of railroad fasteners, with rail clip as our most popular products, we are capable of producing extensive range of elastic rail clips with optimum quality. Designed with high precision, our rail clips are imparted with high tensile strength and corrosion resistance. With more than 20 years' rich experience, our monthly production capacity can be up to 5,000.000 pieces which could help shorter delivery time. Strict dimensional control and the use of high quality spring steel but best price is our one competitiveness.
Rail Clip Types
After over 20 years' experience on producing rail elastic clips, AGICO has become the largest and most competitive production base of rail clips in China, qualified to tender nationally large and medium scaled rail projects under the China Ministry of Railways, both at home and abroad. AGICO can produce various kinds of elastic rail clips like E-type (E1609, E1809, E1817, E2007, E2009, E2055, etc), SKL tension clamps (SKL1, SKL3, SKL12, SKL14, SKL75, etc), PR series, Nabla clips, gauge lock clip, Deenik clip as well as other standard and non-standard clips(e.g. Pandrol and Vossloh) can be customized by drawing or samples.
Main series of Rail Elastic clips
Series
Type
Hardness
Material
Fatigue life
Surface
Standard
E rail clip
E1,E2,E3
44-48HRC
60Si2MnA:
C:0.56-0.64, Mn:0.60-0.90, Si:1.60-2.00, Cr:≤0.35, P:≤0.03, S:≤0.03

60Si2CrA:
C:0.56-0.64, Mn:0.40-0.70, Si:1.40-1.80,Cr:0.70-1.00 P:≤0.03, S:≤0.03

55Si2Mn:
C:0.52-0.60, Mn:0.60-0.90, Si:1.50-2.00,Cr:≤0.35 P:≤0.03, S:≤0.03

38Si7:
C:0.35-0.42, Mn:0.50-0.80, Si:1.50-1.80, P:≤0.03, S:≤0.03

For Dia.18 is 3 millions cycles without breaking.




For Dia.20 is 5 millions cycles without breaking.
plain (oiled), Oxide black, color painting or according to customer requirement.

DIN17221, BS970, GB/T1222
E1609
E1809
E1817
E2001
E2006
E2009
E2055
E2056
Vossloh clip&
Forged rail clip
SKL1
42-47HRC
PR rail clip
PR309
44-48HRC
PR401
PR601
PR85
We can also produce customized rail clips according to your drawings or samples!
Get in touch now
We receive enquiries in English, Español (Spanish), Русский язык (Russian), Français (French) and العربية (Arabic). Our professional team will reply to you within one business day. Please feel free to contact us!