Rail Clamp Description and Professional Manufacturer
Rail Clamp Description
Rail clamp is a device for clamping on rails to prevent or halt the movement of railroad cars past a given point (as at platforms or on stub tracks).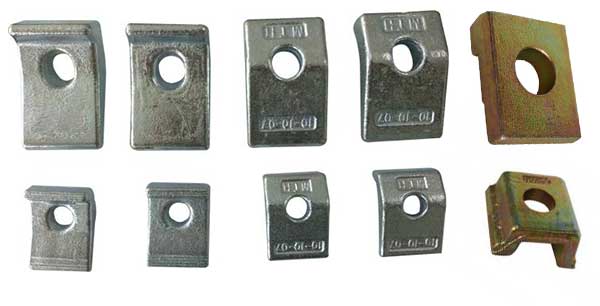 Along with the development of technology, conventional railway clamping systems face many challenges. AGICO rail clamp design is radically different to the legacy design as it guarantees a positive pre-torque angle so that the tighter the bolt is, the better the bolt holes are aligned, thus eliminating the risk of bent bolts. In tests it has been shown that bolts remain straight even at twice the recommended torque.
To reduce the friction between the clamp and the rail foot, the contact points have been made further apart than the legacy design. This reduces the force on the rail and the stress within the edge of the rail foot.
Rail Clamp Manufacturer—AGICO Rail
AGICO is a professional rail clamp supplier, our rail clamps are manufactured and designed by using high grade steel and other materials, conforming to the parameter of industry and market demands. A large range of rail clamps which widely applied in rail construction around the world for its top class and durability. For types, boltable rail clamps and weldable rail clamps are main varieties.

Our rail clamps can be well used in the acid rain area due to protection level over 9. Before shipping to customer every time, all clamps need to pass the 120h test of sulfur dioxide. For materials of rail clamps, Q235 by forging, ZG35 of cast steel and QT500-7-cast iron are top 3 choices, based on our former production experience.
Benefits of AGICO Rail Clamp
Reduced rail stress through wider contact points
Positive pre-torque angle to eliminate bolt bending
Rapid installation
Robust product designed for long service life
Get in touch now
We receive enquiries in English, Español (Spanish), Русский язык (Russian), Français (French) and العربية (Arabic). Our professional team will reply to you within one business day. Please feel free to contact us!