The Important Market: Rail Anchors in North America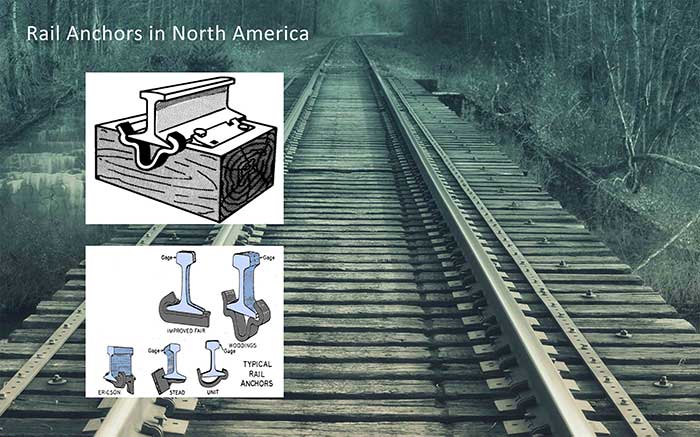 What are rail anchors?
Rail anchors, also named Anti-creepers, are steel clips attached to the underside of rail base plate and bearing against the sides of the sleepers to keep it from moving longitudinally as a result of temperature change, through vibration or under traffic. They are the metallic components of tracks belonging to one kind of fastening device.
What are rail anchors used for?
Before we get to know the function of rail anchors, we should understand another crucial definition, that is, rail creeping.
When the train is running, it often produces longitudinal force on the rail, which makes the rail do vertical movements and sometimes even makes sleepers move together. The vertical movements are called rail creeping. Generally rail creeping occurs in the interval lines of the double tracks of railway, heavy vehicle direction of single track of railway, long down slope railway lines or braking railway sections of train entering the station.
Rail creeping often causes the very destructive phenomenon of uneven rail gap and sleeper skew, endangering traffic safety. Therefore, effective measures must be taken to prevent creeping. So, here we have known that rail creeping means the intermittent longitudinal sliding movement of rails in track under traffic or because of vibration or temperature changes. In the world, the effect of rail creeping is always resisted by rail anchors. These essential rail components as absence of these often result in derailments.
Different types of rail anchors
Rail anchors can be basically divided into drive-on type and spring type. According to Railroad Operations Commuter Rail Material Specification (November 1992), we can find many useful information.
Drive-on type rail anchors
Drive-on type rail anchors shall be manufactured from heat-treated steel and shall conform to AREMA Manual, Chapter 5, Part 7. It shall be one piece, heavy duty type, such as Channeloc anchors, or approved equivalent designed to be fastened to the rail base and exert anti-creeping force against the edge of tie to resist rail movement.
Spring type rail anchors
Spring type rail anchors shall be manufactured from heat-treated steel and shall conform to AREA Manual, Chapter 5, Part 7. It shall be one piece, heavy duty type, similar to Trueloc or Unit anchors, or approved equivalent, designed to be fastened to the rail base and to exert anti-creeping force against the edge of tie to resist rail movement.
Whatever it is Spring type rail anchors or spring type rail anchors, it shall be manufactured as specified in AREMA Manual Chapter 5, Part 7 to allow both mechanized and manual application and shall be capable of removal and reapplication without appreciable loss of anchoring capability. Each spring type rail anchor shall be stamped to indicate the rail section for which it is designed and the year of manufacture. They shall be packed 50 anchors per bag in heavy canvas or other suitable bags and waterproof tags applied. Tags shall be marked with style and base of rail of anchor design.
Next, we will introduce several typical rail anchors mainly in North America as follows:
Improved Fair Anchor
The Improved Fair adopts the unique design that is made of a special T-shaped spring steel that is forged and heat treated for uniform strength and lasting service.
Improved Fair Anchors are a drive-on design. They consist of jaw grip, overdrive stop, platform and bearing area. Their bearing area has a greater contact area than any drive-on anchors. Jaw grip can make the vice-like action on rail base resist rail movement on average more than any others, which can provide superior holding power. The anchors can offer the following benefits: full rail base contact, even creeping load distribution, sleeper chewing and climbing elimination and largest sleeper bearing area. It is the only anchor to eliminate flex in frozen ballast rail pumping conditions.
The anchors have been in regular use since 1906 and can be usually applied for challenging installations or heavy duty railway.
Unit V Anchor
Unit V anchor is engineered with a streamline shape, deep tie-bearing area and improved pre-set features. The Unit V anchor needs little or no cribbing under the rail and is simply installed by a hammer or a machine. Its holding power is rated over AREMA guidelines and complies with all North American Class I railroad standards for performance of rail anchor. It is designed to offer greater holding power than other types of rail anchors, while adjusting to old, worn rail as well as to new rail. Available in STD and HD steel weights, designed to meet the most demanding conditions.
Compression Anchor
Compression Anchor has two-way holding power. One anchor holds in both directions, so the fewer anchors are required per mile. The speed and cost efficiency of machine installation is the most advantage for us. The compression rail anchor fits all the rail sections, which not only simplifies rail anchor inventory and but also reduces storage space and investment. Compression anchors hold the rail to the outside shoulder of the tie plate. They resist rail movement on main line track, branch lines, turnouts, bridges, switches and crossings. They can reduce buckling stresses and provide definitive protection in welded rail. Their uniform holding maintains the gaps at the end of the rails. Rails are effectively anchored in both ways. The torque timber screw with the compression fastener acts as a spring, which can absorb more vertical movement of the rail without transmitting these forces to the torque timber screw or the tie.
Of course, there still have many kinds of rail anchors, for example, Ericson rail anchors, E-clip rail anchors, stead rail anchors, channel rail anchors, etc.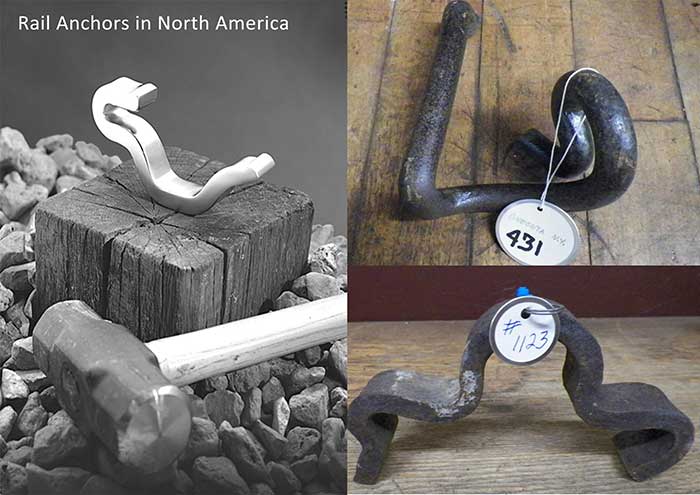 AGICO Company provides rail anchors for a variety of rail sizes to meet a variety of issues and demands. Our rail anchor manufacturing processes assures that our rail anchors will remain the dominant performance in track. Our long history of manufacturing rail anchors for the railway industry is indicative of our quality and dedication to customer service. Our professional staff provides expertise and timely quotes for whatever is needed, whenever it is needed.
Get in touch now
We receive enquiries in English, Español (Spanish), Русский язык (Russian), Français (French) and العربية (Arabic). Our professional team will reply to you within one business day. Please feel free to contact us!